Gingivitis
Gingivitis Narrative
What is Gingivitis?
| | |
| --- | --- |
| • | Gingivitis is a form of gum disease that happens when plaque, a naturally-occurring sticky film containing bacteria, builds up on teeth and causes inflammation of the surrounding gum tissue. Plaque produces toxins that irritate the gums. This can cause the gums to become inflamed, making them red or puffy, or causing them to bleed. |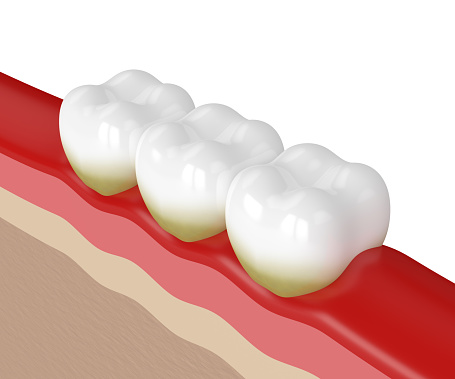 What causes Gingivitis?
•
Smoking/tobacco use is one of the greatest risk factors associated with gum disease and can lower the chances for successful treatment. Research shows that smokers are seven times more likely to suffer from gum disease than people who don't smoke.

•
Poor oral hygiene, such as not brushing or flossing regularly is one of several easily avoided causes of gingivitis.

•
Not fully removing plaque. You may be missing the plaque found around the gum line, even if the plaque on your teeth has been removed.

•
Stress is another one of many causes of gingivitis. Constant stress can weaken your immune system and negatively impact your ability to fight infection, including gum disease.

•
Hormonal changes including puberty, pregnancy, menopause, and monthly menstruation cause increased sensitivity and inflammation in your gums.
Take extra care of your teeth and gums during these physiological changes to prevent gum disease.

•
Poor nutrition deprives the body of important nutrients and makes it more difficult for the body to fight infection, including gum disease.

•
Medications for many conditions can affect oral health. Tell your dentist or hygienist if you take any prescription or over-the-counter medications.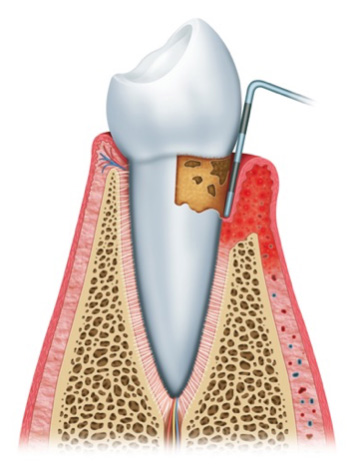 What are some signs of Gingivitis?
| | |
| --- | --- |
| • | Because gingivitis doesn't often cause pain, many people don't know they have it. In fact, as many as 75% of all Americans will experience some degree of gingivitis during their lifetime. That's why it's important not only to know what to look for, but also to see your dentist and hygienist regularly for cleanings and checkups. |
| • | Red, puffy gums. |
| • | Bleeding gums, especially when you brush or floss. |
| • | Sore gums that won't go away. |
| • | Tooth pain or sensitivity. When gums pull away from teeth, teeth are more exposed and sensitive to hot and cold foods or beverages. |
| • | Bad breath that won't go away. Plaque contains millions of bacteria that produce foul-smelling waste products. |
Treating Gingivitis
| | |
| --- | --- |
| • | Treating and preventing gingivitis is all about eliminating as much plaque from your teeth and gums as possible. The best way to treat it is to catch it early. Make a dental appointment as soon as possible. Your hygienist will remove plaque or tartar (plaque that has hardened) from your teeth with special instruments. Tartar can only be removed by a dental professional, so using oral care items rated for plaque removal helps reduce the amount of tartar needing removal during your dental visit. |
| • | Steps to Help Prevent and Treat Gingivitis: |
| • | Brush your teeth and gums for at least 2 minutes<.strong>, at least 2 times a day. |
| • | Floss at least once a day. |
| • | Replace your toothbrush every 3 months: Worn-out bristles remove less plaque. |
| • | If you have sore gums after flossing or brushing, or notice bleeding, don't stop brushing or flossing. |
| • | Cut back on foods that are high in sugar. Sugar promotes the growth of gingivitis-causing plaque. |
What to expect at your Gingivitis Therapy Appointment
•
Your Hygienist will administer a topical numbing gel to your gum tissue to ensure the highest quality comfort during treatment.

•
An ultrasonic cavitron will be used to remove and flush out harmful bacteria and plaque from underneath the gum tissue.

•
Your Hygienist will then measure the attachment levels of your gum tissue. 1-3 mm attachment levels indicate a healthy probing depth. Measurements greater than 4mm indicate that the gum tissue has started to detach from the
tooth due to irritation caused by harmful bacteria and plaque.

•
A prescription antibacterial mouth rinse will then be irrigated into the gingival pockets to ensure further removal of any remaining bacteria.

•
You will return one month following your gingivitis therapy for a follow up cleaning and remeasurement of the gingival attachments.