Teeth Whitening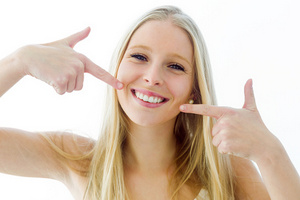 A smile can say so much, and we can help you have a great one. Having your teeth professionally whitened is one of the easiest steps you can take to elevate your whole face. We can help you achieve a smile that presents a more friendly, professional and beautiful you! At Premier Dental, we offer both prescribed whitening kits to use at home, and professional whitening treatments that can be completed in our office in about an hour. We are happy to discuss these options with you and help you reach your ideal smile.

Teeth whitening is done through the application of peroxide. This is the same whether you are buying a store bought product or having professional whitening completed. The difference is in the peroxide strength. Store bought products are bound to a low dosage, meaning whitening is occurring, but slowly and limitedly. When you work with an office such as Premier Dental, we are able to prescribe a higher dosage. In-office treatment combines that higher dosage with laser treatment to speed up the progress. Additionally, we can repeat treatment until optimal whitening is achieved.


Prescribed Take Home Whitening Kits

We can customize a whitening kit to use at your convenience at home. Some patients use this as their first step, and some patients use this for touchups following in-office treatment. We will create customized trays designed to fit comfortable in your mouth and provide a prescription strength whitening gel. You can apply frequently, per directions, to reach a whitening goal. Or, you can apply as needed to freshen your look.


In-Office Treatment

Having your teeth professionally whitened in our office begins with a dental cleaning. We remove any surface stains with a gritty toothpaste and a rotary brush. We then create a dam separating your teeth and gum tissue. Peroxide can cause a burning of soft tissue, so we try to prevent that from occurring. The gel is then painted onto the surface of your enamel. The gel sits on the teeth for a period of time, the time is dependent on the work being done.

We will check the status of progress during your treatment. Following the gel, we may choose to apply laser treatment to speed the process. This may be dependent on the specific patient and their needs. Laser treatment is done through a blue light exposure. This should heighten the reaction and provide even whiter teeth.


Following Treatment

Teeth whitening is a chemical treatment of your enamel. There is some post treatment information that you should be aware of. Immediately following treatment, you may find your teeth to be sensitive, this is normal and should subside within a few days. During this same period, the patient should also use caution with their food and drink choices, the teeth are more susceptible to staining immediately following treatment. Finally, the patient should be aware that just as their teeth developed stains to begin with, restaining will occur. Many patients make teeth whitening an annual treatment to keep their pearly whites.