Periodontal Care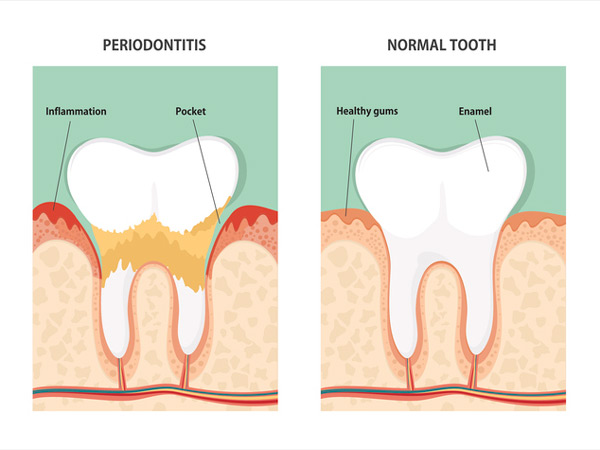 Our team of skilled individuals at Premier Dental, are on hand to provide periodontal care services. The word periodontal refers to anything related to the structures surrounding and providing support for the teeth. Therefore, periodontal care refers to the care for these structures.


Why Is It Necessary?

The mouth houses much more than just the teeth. Other oral tissues such as the gums and the surface linings, as well as the jaw bones are part of the mouth. Thus, they require the same attention and care given to the teeth.

The gums, also known as gingiva, serve as a protective barrier for our teeth and the supporting structures like the jaws. This protective barrier is susceptible to diseases that come in various stages and forms, with the main culprit being bacteria in dental plaque. These gum diseases are the leading causes of tooth loss in adults. The bacteria found in plaque that forms on the teeth produce harmful toxins that cause inflammation in the gum tissue. If the plaque and inflammation are not taken care of, it can cause damage to the teeth and gums. It is, therefore, imperative that oral care has to be extended to the gums as well.


Common Gum Diseases and Their Symptoms

A very common gum disease that plagues about 50% of the adult US population is gingivitis or inflammation of the gums. Some of the symptoms associated with this disease are bleeding of the gums while brushing the teeth, swollen-looking gums, and red gums. Another common disease is gum abscesses, which are caused by a bacterial infection and can be quite painful. They usually manifest in the patient through the presence of blisters or bumps which contain pus.

Yet another gum disease is periodontitis, or periodontal disease. It is similar to gingivitis in that they manifest similar symptoms. However, it is more severe and presents a cause for special concern because it can lead to loss of gum tissue and jawbone, which cannot be recovered. It is particularly dangerous if it goes undetected because it progresses over time and might not give off painful symptoms until the disease reaches the point where it starts damaging the tissues and eventually the jawbones.

Gum recession – a dental condition in which the root of the tooth is exposed due to the gumline pulling away from its original attachment is also a common gum problem. It could be as a result of periodontal disease as the jawbone holding the teeth in place is lost. This causes tooth sensitivity to temperature and tooth decay as a result of the exposure. Lastly, we have oral cancer which is a less common periodontal disease. It is characterized by red or white patches or a sore that refuses to heal.


How Is Gum Disease Diagnosed?

When you come for a periodic dental exam at our clinic, we measure spaces between your teeth and the gum called periodontal pockets. We also look out for the amount of root that is exposed for each tooth to check for gum recession, and we inspect for other signs of jawbone loss. This helps us to determine the overall health of your gums and identify which areas are problematic. Depending on your diagnosis and the stage of periodontal disease, we map out a treatment plan for you. Treatment plans vary from professional basic dental cleanings for gingivitis, prescription of antibiotics in addition to scaling, and root planing for gum abscess. We also perform deep cleaning and gum surgery for periodontal disease, gum grafts for gum recession and chemotherapy and radiation for oral cancer.

Tooth loss can have a negative impact on individuals who experience it, and gum problems have been linked to other health problems like heart disease. Therefore, having healthy gums should be a priority for everyone. If you would like to find out about periodontal care options in our clinic, you can do well to visit or call our clinic Premier Dental at one of our three convenient locations today.