Oral Cancer Screening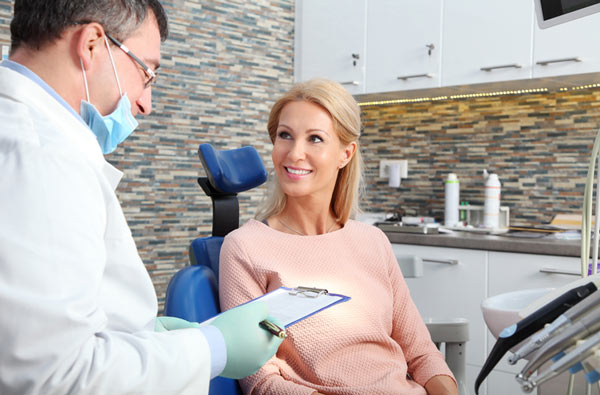 Just like any other body part, our teeth are vulnerable to cancer. At Premier Dental, we provide you the best treatment with quality oral cancer screening that helps in diagnosing and determining the severity of your cancer. Oral cancer generally includes the growth of cancer cells in your lips, tongue, cheeks, sinuses, and pharynx.


Symptoms of Oral Cancer

The signs and symptoms of oral cancer vary from person to person. However, our specialists say that the general symptoms may include having the area inside your mouth, including lips and gums, start to swell, thicken, erode, and develop rough spots. Your mouth can also develop velvety, white, red patches. In some cases, the mouth starts bleeding, followed by numbness, tenderness around your face, mouth, or neck. There is also a possibility of throat soring, experiencing difficulty in swallowing, chewing, speaking, or moving mouth, and unexplained weight loss.

Pay heed to any unusual symptoms in your mouth before it gets too late. Do not neglect the slightest chances of oral cancer. Catching on to possible warning signs quickly can mean early detection and faster treatment. Chances of surviving cancer are always enhanced the earlier it is detected.


Risk Factors of Oral Cancer

While oral cancer is treatable in its early stages, there are some risk factors that can turn the seemingly normal issue into a severe one. Though the chances of oral cancer increase with age, there are many people below the age of 55 years who have developed oral cancer. To reduce your risk of oral cancer, it is important to understand the risk factors involved and stay vigilant about them.

Oral cancer is more common in men than in women. Alcohol and tobacco consumption can be considered as a significant reason. It is also diagnosed majorly from the age of 62 years, and two-thirds of people are detected with oral cancer over the age of 55 years.

Excessive exposure to sunlight also causes oral cancer. Cancer on the lip is most common among people who regularly use tanning beds and overly exposed to the sun. There are inherited genetic mutations that increase the risk of oral cancer. Anemia is one such mutation. It is a blood impurity condition arising due to abnormalities in genes. People suffering from Fanconi Anemia have a risk of developing cancer 500 times higher than the general population. Dyskeratosis Congenita is another genetic syndrome that also develops into aplastic anemia and drives high risk of oral cancer.

Tobacco use is the reason behind 80% of oral cancer cases across the globe. The frequency and duration of tobacco use influences the severity of oral cancer. Smoking tobacco is rated as the primary reason for cancer in the mouth, throat, and lips. Excessive alcohol consumption is another contributor.

Oral cancer is not an incurable disease. With proper oral cancer screening for early detection, oral cancer can be tamed, and your mouth can reclaim its health. If you suspect any of the oral cancer symptoms, then visit us, Premier Dental at one of our three convenient locations to get your screening done in order to safeguard your health.