Dental X-Ray

Bells, Jackson, & Milan, TN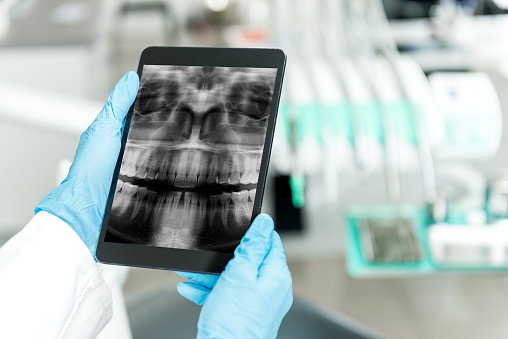 Here at Premier Dental, we offer digital radiography services. Digital radiography is a form of radiography in which data is directly captured during a medical examination of a patient and transmitted to a computer system without the use of intermediate cassettes using x-ray sensitive plates. In dental care, it is a high tech replacement for traditional dental x-rays.

For most people, traditional dental x-rays or radiographs present safety concerns just like any other x-ray, even though the amount of radiation is reduced, and serious precautionary measures are taken to protect the patient from exposure. There is also the issue of the wait time associated with processing film x-rays as well as environmental concerns. Dental digital radiography is a way of addressing those concerns and issues. It also produces better computer images of the teeth, gums and other oral structures, which allow for better detection, diagnosis, treatment, and monitoring of oral conditions and diseases.


What the Process Looks Like

When you visit our clinic for a dental radiograph, the process is quite similar to that of traditional x-rays at the beginning. We will insert a digital sensor into your mouth to capture images of your teeth. The digital sensor placed in your mouth is electronic and is connected to a computer. Once the x-ray is taken, the digital image is projected on the screen for both you and us to see.


Advantages of Digital Radiography

Apart from the obvious safety related benefits of digital radiography because of the minute amount of radiation it uses, there are also other not so obvious advantages. One of such merits is that the wait times are greatly reduced. This, in turn, leads to shorter dental appointments since the sensor inserted into your mouth develops the images almost instantly and projects it on a screen for you to see immediately.

Another advantage is the improved quality of images. The images produced from digital radiography can be enlarged when projected on the computer screen. This allows us to get a better visual of the teeth. It also makes provision for adjustment of contrast, brightness and color so that we can see smaller cavities better. Such images can also be printed out for you if you need a hard copy of them.

Yet another benefit of this sophisticated technology is the ability for images to be transferred easily. The image files can be emailed or shared efficiently without any loss in quality, allowing for easy collaboration with our team of dedicated dental specialists if the need arises. We can also easily store the images along with your dental records, and they can be sent quickly to insurance companies enabling faster dental insurance reimbursements.

Lastly, digital radiography is environmentally friendly. With digital x-rays, the use of photo processing chemicals is eliminated. Chemical processing of films is no longer needed. There is also no need to dispose of hazardous wastes and lead foil. As a result, it is better and a greener alternative for the environment.

As a reminder, it is important to note that dental radiographs or x-rays are an important part of your dental care. Therefore, if you would like to learn more about digital radiography, you should call the experienced professionals here at 731-300-3000 today!