Dental Bridge

Bells, Jackson, & Milan, TN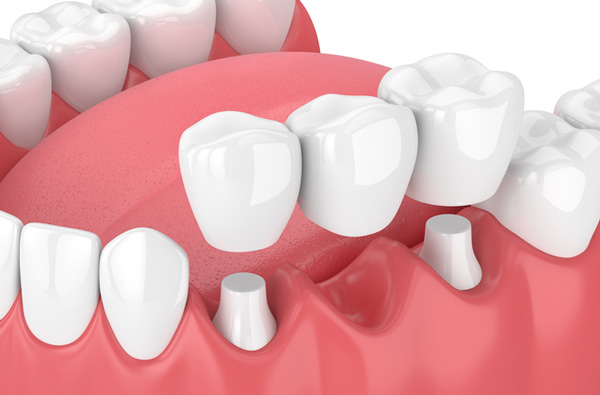 If you visit our office at Premier Dental with two or more missing teeth, we may propose a dental bridge. This is a dental restoration or prosthesis that is fixed in the place of the missing teeth by anchoring it to a dental implant, or to an adjacent natural tooth known as an abutment. Dental bridges can be made from porcelain, silver, gold, or porcelain-fused metals. Patients who want their prosthetic to blend with their natural teeth will normally go for porcelain bridges.


Variations in Dental Bridges

Dental bridges can be of different types, including traditional, cantilever, Maryland, composite and implant-supported bridges. Traditional bridges are common and usually made from porcelain or porcelain-fused metals. The prosthetic is attached to two healthy natural teeth that are reshaped and capped with dental crowns before the bridge is placed.

Cantilever bridges are similar to traditional bridges. They, however, differ in that a single tooth on one side of the bridge serves as the abutment. We consider cantilever bridges when a tooth on one side of the bridge is not healthy enough to support the bridge, or when it is already supporting a previously fitted pontic.

Maryland bridges are anchored to two natural teeth on both sides of the bridge using metal wings. The metal wings are attached to the rear side of the abutment which makes the bond unnoticeable. We consider this type of bridge when the patient doesn't want a crown fitted as a support for a bridge.

Composite bridges are one of the more affordable options if you have just one or two bridges missing. In addition to being an affordable option, they are also convenient because they can usually be fitted in one sitting. In this procedure, the composite material is fitted directly into the gap, and they are often supported by the adjacent teeth with help from ribbons or wires.

As suggested by their name, implant-supported bridges allow the replacement of missing teeth by surgically placing an implant in every space and using it to attach the false teeth. We often recommend them for their strength and durability, even though it takes us more visits to complete.


Why Consider Dental Bridges

As a dental restoration option, bridges have several advantages, one being that they can offer the patient a functional and aesthetic solution. Dental bridges are an excellent way of restoring oral functions that are inhibited by dental gaps, including masticating and speaking. Bridges are usually light and do not tamper with other oral functions.

Replacing lost teeth with a bridge restores the self-esteem of a patient whose social life may have been affected by the situation. A dental bridge has an aesthetic impact on one's smile and facial shape, and replacing lost teeth with a bridge protects adjacent teeth from shifting.

As a fixed option, bridges save the patient the trouble of removing teeth every day before bed, as is the case with dentures. Visit us if you have lost teeth and need a bridge done ASAP or call us at one of our three convenient locations for any questions or to schedule an appointment.