Restoring with a Dental Implant and Crown vs. a Dental Bridge

Bells, Jackson, and Milan, TN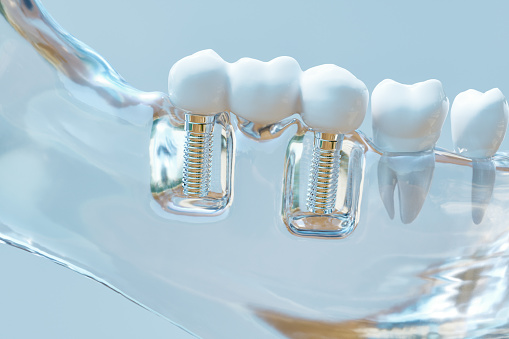 Advancements in dentistry have provided our patients with choices. We are excited to share options with our patients and discuss the benefits of each specific to their needs. When a patient is missing a tooth, we can discuss restoring the tooth with a dental bridge or an dental implant that is covered with a dental crown. Both options come with the benefits of a restored tooth, we can help you decide which option is best for you.

Missing teeth can be problematic for your oral health. Even a single missing tooth can lead to shifting of neighboring teeth, changes to what you can chew, unbalanced chewing, and atrophy to your bone. We can stop these problems with a dental prosthetic. Deciding which prosthetic is right for you can be dependent on time and money. Our team at Premier Dental is happy to help you navigate the decision process.


Restoring a Missing Tooth with A Dental Bridge

A dental bridge is an excellent option for replacing missing teeth. Many of our patients have had a bridge placed, and it can be a great tool. A dental bridge is a singular piece that consists of two dental crowns on either end that are designed to fit over a healthy natural tooth, or dental implant, with false teeth between. The crowns on each end anchor the false teeth, filling the gap and providing you with a functional tooth.

With all of these advantages, a bridge does come with some drawbacks. A dental bridge requires anchors. The anchor can be any combination of healthy natural teeth or implants. In order to place crowns over the healthy teeth to serve as anchors, we are required to reduce and reshape an otherwise healthy tooth. Altering a healthy tooth when you don't need to is not ideal. Additionally, though we restore the missing tooth, we are not restoring the connection to the jawbone beneath. The bone will not receive the exercise it requires from the tooth and will atrophy.


Restoring a Missing Tooth with A Dental Implant and Dental Crown

Restoring a missing tooth with a dental implant and crown is also an excellent option for replacing missing teeth with fewer drawbacks. A dental implant is a titanium or ceramic post that we surgically embed in your jawbone to reestablish the connection between the bone and tooth similarly to a tooth root. In fact, this process is a true restoration because we are rebuilding and recreating the same process of your natural tooth you once had. Additionally, a dental implant and crown combination does not require the alteration of neighboring teeth to place, it is a fully independent unit.

An implant with a crown comes with several advantages but also includes some drawbacks. The biggest drawback to this system is the length of time it requires from beginning to end. After we surgically place the implant, we then need to wait a period of time for the bone to heal and grow around the implant. This healing time can take months. Once the bone has grown around the implant, the implant is then held firmly and permanently in place.


Contact Us

Our team is happy to review and discuss your options with you concerning prosthetics and implants. Together, we can weigh your options and help you decide the best course of action for you. For more information, contact our Jackson office at 731-300-3000 today.