Clear Aligners

Bells, Jackson, & Milan, TN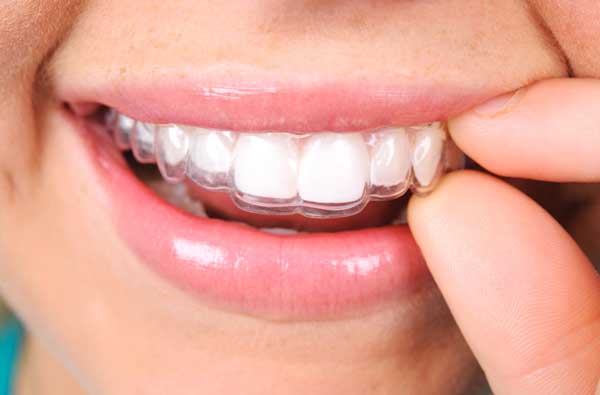 Wanting to have an attractive and healthy smile is something that many of us strive to achieve.

However, if you have any issues with your bite, it can make it harder to share that smile with the world.

Issues with malocclusion; such as an open bite, an underbite, or an overbite; or even the alignment of your teeth can impair your ability to show your smile with confidence.

Furthermore, many of the options to help improve the appearance and function of your bite can be quite tedious and unpleasant.

However, the use of clear aligners can help improve both your bite and the aesthetics of your smile. Even better, they are incredibly discreet and can take less time to complete the treatment process.

If you have been struggling with low confidence, or if you are simply wanting to improve your dental alignment, Premier Dental can help you do that through clear dental aligners.


What Are Clear Aligners?
If you are wondering what clear aligners are, you may be pleasantly surprised to learn how similar they are to conventional dental braces.

However, unlike conventional braces, clear aligners are much more subtle and can help improve the function and appearance of your teeth, but without unsightly wires and brackets.

If you are wondering how clear aligners work, they work similarly to conventional braces by slowly easing your teeth into position.

Clear aligners are exactly what they sound like. They use transparent, thermoplastic trays to help gently adjust your teeth and move them into position.


Unlike traditional dental braces, they do not generally detract from your smile while you use them. They can also help address a myriad of dental issues, such as an overbite, underbite, and open bite.

That said, they may not be beneficial against all types of malocclusion, which is why you need to speak with us to determine if you are a good candidate for them.


The Benefits of Clear Aligners


There are many benefits to using clear dental aligners.

For instance, one of the main benefits of clear aligners is the fact that they are transparent. While using conventional dental braces can be effective in many cases, they do come with their downsides.

For example, conventional braces are quite visible and somewhat unsightly, especially if you are an adult or working professional who needs to look polished and put-together in your day to day life.

Another key benefit of clear aligners is the fact that they can help straighten your teeth in just a fraction of the time of conventional dental braces.

In many cases, you may only need to wear them for a year to 18 months.

You can also remove your clear aligners for up to two hours per day, which means that basic activities such as eating and brushing your teeth will be much easier.

Many patients report that using clear aligners is much more comfortable than traditional braces, as well.


Conventional Braces Versus Clear Aligners


If you have been considering clear aligners and have been weighing the pros and cons of clear aligners versus traditional braces, it is important to take the time to compare them to conventional dental braces.

That way, you can make the most informed decision to determine which treatment option is best for you.

For example, there are some instances in which using conventional dental braces may be better for you than using clear aligners. We can help you determine which one is best for you.

One reason a patient may be better suited for traditional braces is due to the extent of their malocclusion.

Malocclusion means that there is an underlying issue with your bite.

This could mean that your upper teeth may overlap your bottom teeth. This is known as an overbite. Your bottom teeth may wrap over your top teeth, which is called an underbite.

Or your mouth may not even fully close and your teeth may not fit together when you bring them together, which is referred to as an open bite.

If you have more severe malocclusion issues, you may be a better candidate for conventional dental braces.

With that in mind, our team of dental professionals can go over your dental issues with you and help you decide which treatment options are best for your needs.

If we determine that you are better suited for clear dental aligners, we will help you start the process of getting fitted for these dental appliances.


Who Is a Candidate For Clear Aligners?
Have you been asking yourself, "Am I a candidate for clear aligners?"

Some patients are surprised to learn that not everyone is a good candidate for this orthodontic treatment, and it is best to consult with us to determine if they are a good fit for you.

We treat our patients on a case by case basis, which means that one patient may be a great candidate for clear aligners, whereas another may not be as good of a fit for these orthodontic devices.

Because the severity of the malocclusion may vary, there are some dental issues that may arise that can prevent you from getting clear dental aligners.

A good candidate for clear aligners is a patient who is willing to comply with the necessary work to complete the treatment.


You will need to come into our office to have them adjusted, which means you will need to be able to take time out of your schedule to make those changes. Patients who have severe malocclusion may also not be a good fit for clear aligners.

Finally, a good candidate is a patient who does not have active infections or decay in their teeth or along their gum line necessitating further dental care for either dental crowns or fillings.

Please remember that if you do have tooth decay or infection, that may not necessarily bar you from using clear aligners.

We can help you treat these underlying issues with dental crowns, fillings or any other required treatment.

Once we have resolved these problems, then we may be able to proceed with getting treatment with aligners.


Getting Started With Clear Aligners


Taking the first step toward improving the health, appearance, and function of your smile can be incredibly exciting and empowering.

If you have been wondering if you are a good candidate for clear aligners and are interested in starting the process of undergoing treatment for them, our team of dental professionals are more than happy to guide you through the process and answer any questions you may have.

From start to finish, we love helping our patients restore their confidence and improve their oral health with orthodontic treatment.

The use of these, as well as more orthodontic treatments to boost confidence and appearance, is something we take pride in.


Discover How Great Your Smile Can Be With Clear Aligners!


To learn more about clear aligners and get started with using them, please do not hesitate to reach out to us here at Premier Dental by giving us a call at 731-300-3000. We look forward to hearing from you and helping you get the beautiful smile of your dreams!