Bruxism

Jackson, TN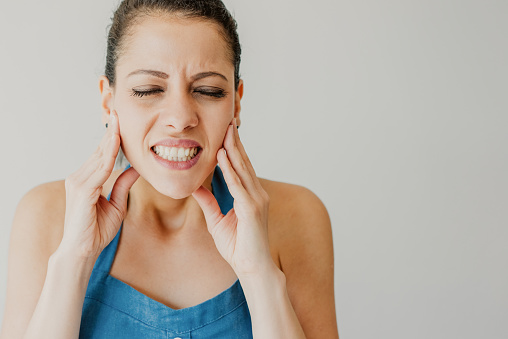 Bruxism is often a temporary disorder, but it can cause a large amount of trouble.

If you suspect you are suffering from bruxism, we may be able to offer a simple tool to prevent problems while it occurs. Our staff at Premier Dental can help you protect your teeth.

Bruxism is a dental disorder that is often temporary and associated with stress.

It is the clenching, grinding or gnashing of teeth, generally subconsciously or unconsciously while you sleep.

The difficulty in bruxism is the damage that this condition can cause.

Bruxism can cause problems such as:


Flattened Teeth


Grinding your teeth can have a similar effect as if you were sanding your teeth. It causes your teeth to grind flat, smoothing the surface. The downside to this is losing the ability to properly chew and break down your food.

The points and ridges of our teeth is to break down food into smaller pieces, if you don't have that you may have to eliminate certain foods from your diet.


Cracked Teeth


Cracks in teeth, even tiny hairline cracks, can be problematic. Besides weakening the teeth, cracks also open space for bacteria to slip in.

Bacteria can go into the cracks and find its way into the inner portion of your tooth leading to infected pulp and requiring a root canal to be needed.

Cracks in your teeth may not be noticeable, but can leave your teeth vulnerable to infection.


Fractured Teeth


Clenching, gnashing and grinding can cause breakage or fracture to occur.

Teeth can become broken causing discomfort, pain and exposing your tooth to disease.

Repairing a broken tooth, or multiple teeth depending on the damage bruxism has caused, can be painful and very expensive.


How do I know if I have bruxism?
Oftentimes, bruxism is done subconsciously or unconsciously, so many patients aren't aware that they have it.
Bruxism is often diagnosed in the dentist chair during your annual exam when we note the trouble spots in your teeth. If you suspect you have bruxism, there are signs that you can look for to help you spot the symptoms.
People with bruxism may be waking up finding that their teeth are sensitive or sore. They may find that their jaw feels tired or tight.

They may feel the sensation of their mouth being firmly closed and now relaxing when they wake.

Some patients find that they even have facial pain, either in their cheeks, ears, brow, or some report headaches.

All of the signs could be symptoms that we can further investigate.
What can I do about bruxism?
There are steps you can take to reduce the incidence of bruxism, additionally, we can customize an appliance to wear and protect your teeth while you sleep.


At Premier Dental, we can customize a mouthguard, or nightguard, to protect your teeth while you sleep.

This silicone retainer-like device is designed to fit snugly over your teeth and provide the cushion your teeth need to be protected.

This can significantly reduce the damage done from bruxism without making a significant impact on your life.


Schedule to Learn More About How we Can Help!


For more information on mouthguards and nightguards, contact our Jackson office at 731-300-3000.