Is A Gum Grafting Procedure Painful?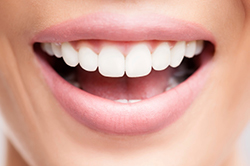 If you experience tooth sensitivity when you consume hot or cold foods, there are higher chances that you suffer from gum recession that has exposed the root of your teeth. Several factors lead to gum recession, such as periodontal disease, aggressive brushing, various medications, clenching and grinding your teeth, and genetics.

If gum recession goes untreated it can lead to the loss of bone structure, root decay, and eventually loss of teeth. While gum tissue cannot grow back, a dentist can perform a procedure referred to as gum grafting.


What is Gum Grafting?

Dentist use gum graft surgery to treat thinning gums or gum recession. The procedure helps to restore the receding gum tissue. The dentist picks gum tissue from other mouth parts like the root of the mouth where it is used to stitch the gum tissue around an affected tooth. The procedure is painless and has many advantages when compared to leaving the gums or teeth untreated. Various tooth grafting options are available such as connective tissue grafting, free gingival grafting, and pedicle grafting.


Is the Procedure Painful?

A dentist will do all they could to ensure the procedure is comfortable from start to finish. The dentist administers a numbing agent or a local anesthetic to ensure you do not feel any pain while the procedure is being carried out. The moment the anesthesia will wear out is when you will experience some discomfort. The level of pain that you will experience depends on your pain tolerance, though. However, you can manage it with painkillers.


Should You Undergo the Procedure?

The moment you have started experiencing gum recession, it won't regenerate without any treatment. An exposed tooth root structure leads to unbearable tooth sensitivity and the tooth is susceptible to decay. A simple gum graft can prevent costly restorative procedures. Contact us today if you have receding gums to evaluate you for a gum grafting procedure.