Dealing with Chronic Bleeding Gums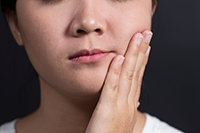 There are several different causes of bleeding gums, but the most prevalent one is periodontal disease. However, it can also be a sign of more serious health issues. Brushing your teeth too forcefully or wearing dentures that don't fit properly can cause occasional gums bleeding.


Chronic gum bleeding: what causes it?

Plaque at the gum line is the primary cause of bleeding gums. Gingivitis, or swollen gums, is the result of the same. Tartar forms if plaque is not eliminated. Periodontitis, an advanced form of gum and jaw bone disease, will develop due to increased bleeding.


Inadequacies in vitamin intake

Gums that heavily bleed are caused by vitamin C and vitamin K deficiency. Consider getting a blood test from our doctors if you experience bleeding gums that do not result from poor dental hygiene. In addition, eat foods rich in the respective minerals to acquire the vitamins you require to stay healthy.


Gingivitis

Gingivitis is most commonly caused by plaque remaining on the gum line for an extended period. Plaque is a term used to describe the buildup of food and germs on your teeth and can be eliminated from your teeth by brushing. Once the plaque is removed, the chances of suffering from dental caries are quite low. A regular brushing and flossing regimen can help remove plaque from the gum line. Plaque solidifies into tartar (calcium) when failed to get eliminated, leading to increased bleeding. A buildup of plaque around your gums is a common cause of gingivitis.


Pregnancy

Gum bleeding is frequently brought on by pregnancy. The gums are more sensitive due to hormonal changes during pregnancy.


Treatment

The first step in controlling bleeding gums is to practice good oral hygiene. Professional cleanings are required twice a year. Flossing and effective brushing enhance plaque removal from the gum line and lower your chance of developing gum disease. Please schedule a consultation session with our dentist to learn more about our high-quality services. Visit our dental care center or call us to book an appointment with our dental experts.