Symptoms of Gum Disease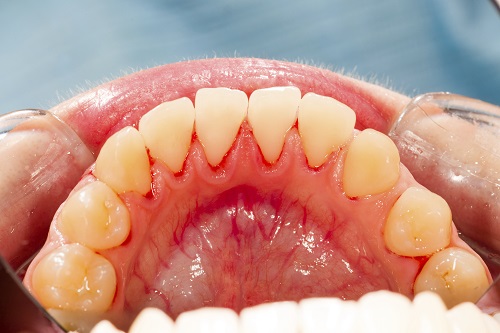 Gum disease is an infection of the tooth tissue. The gums become swollen, sore, red, and may bleed. If left unchecked, gum diseases may lead to gum separation from the teeth. Possible signs that indicate gum disease infections include; bleeding gums, especially when carrying out dental hygiene such as brushing. There is pus between your gums and teeth. You may have gums that have pulled away from your teeth, thus causing tooth loss due to their inability to hold the teeth.

Having sensitive teeth is also another symptom of gum disease. Your teeth may be painful when chewing, and also, there may be a change in how the teeth fit in the mouth.

Having a foul-smelling even after proper dental hygiene is another significant symptom of gum disease.


Causes of gum diseases

Poor dental hygiene can lead to infection by gum disease as our mouths are full of bacteria, mucus, and food particles that remain after a meal. Consequently, such components result in a plaque, which, when not eliminated, hardens to form tartar.

Other factors that can cause gum diseases include smoking which prevents the gum tissues from healing. Alcohol consumption is another factor. In women during puberty and menopause, there might be a higher risk of gum infection due to hormonal changes. Diseases such as diabetes pose possible risk factors for gum diseases. Similarly, stress has also been established as a significant agent of gum disease infection.


Prevention of gum diseases

Using fluoride toothpaste, you can protect your teeth against gum infection by brushing at least twice a day. Routine flossing of your teeth to remove any plaque between your teeth ensures healthy teeth. Our dentist advises against smoking because it's harmful to your dental health.

Replace your toothbrush after every three months to maintain a high level of dental hygiene. Furthermore, eating balanced food is also important for your dental health.

You can also visit our dental clinic for regular checks with our dentist, who will educate you on more gum disease information.