Not Flossing Each Day May Not Look Like It Causes Much Damage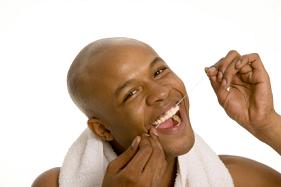 Sadly, flossing is low on the list for most people. Those who floss can attest to the wide range of benefits. Flossing is preventative oral care that decreases the harmful bacteria in your mouth.

Most people think that brushing their teeth is the best way to remove plaque from the surface of their teeth. However, flossing is just as important as brushing. While you can brush three of the five surfaces of your tooth, you cannot reach all the spots with only a toothbrush. As a result, you cannot brush between your teeth. Therefore, it is important to floss every day to rid your mouth of food debris and keep your gums healthy.


Can You See the Damage?

While not flossing each day may not look like it causes much damage, it actually does—plaque and tartar build-up between your teeth in less than a week. If you choose not to floss, the accumulation of tartar will lead to tooth decay and cavities.

Your teeth are not the only thing that is affected if you do not floss. If you do not floss, your gums will start to get inflamed and sore. If gingivitis is left untreated, it will turn into periodontitis. This advanced form of gum disease can cause pain as bacteria eat away at your gums.


Schedule Your Dental Exam

To see if you're flossing effectively, it is important to come to our office for a professional cleaning and dental exam. We will help you, through education and hands-on training, to brush and floss your teeth for optimal oral health. After you do it a few times, we trust you will see the benefits and incorporate flossing into your daily oral hygiene routine. Then, give our friendly office staff a call to schedule your next appointment.