If You Get One Set of Dentures on Implants, Which Arch Should It Be?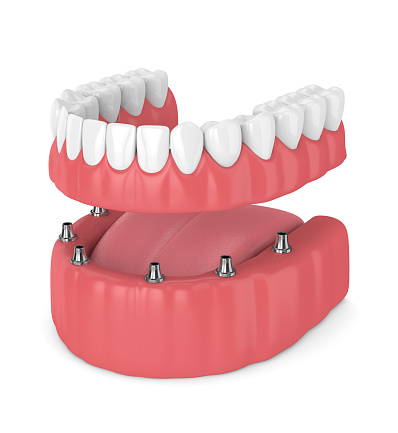 Dental implants stabilize your dentures by securing them in place in your jaw. It is possible to replace both arches of teeth with implant-supported dentures, but if you only want to replace one, we recommend stabilizing the bottom arch with dental implants and using regular dentures for the top arch.


Why You Should Stabilize Your Dentures

Traditional dentures are held in place in your gums using only suction. As a result, they can slip around in your mouth, place pressure on your gums, and can even cause painful gum sores. Many people find traditional dentures frustrating, uncomfortable, and even embarrassing since they need to be removed at night for cleaning. Removable dentures also only offer limited improvement in your ability to speak and eat normally, and they do not prevent against jawbone deterioration and facial collapse.

The best way to make your dentures more comfortable and effective is to stabilize them using dental implants with the all-on-4 method. The all-on-4 method is a way of restoring an entire arch of teeth with a set of dentures secured to four (or up to six) dental implants. Dental implants are artificial tooth roots made of titanium that are screwed into your jawbone. The implants fuse with your jaw, forming a strong foundation for your dentures. Since the implants function the same as your natural tooth roots, they prevent against jawbone deterioration and facial collapse. And unlike traditional dentures that need to be refitted and replaced every five to seven years, implant-supported dentures are permanently secured in your mouth.


Top Arch or Bottom Arch?

Many people with dentures have no issue with their upper set, but find it uncomfortable to wear lower dentures. Lower dentures are more likely to become loose and slip out of the gums, which can cause difficulty with chewing food and speaking. For this reason, we typically recommend stabilizing the lower denture with implants. For more information, contact our office.