Correcting A Gummy Smile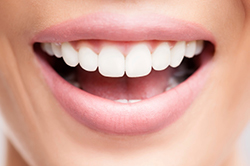 Do you smile in photos? Or do you avoid the camera like the plague? Many adults don't like their smiles and are ashamed to smile for a selfie or a group photo. If the reason you don't smile is because people see more gums than teeth, there are ways a dentist can fix your smile.


Orthodontics

Some adults have gummy smiles because of their malocclusion- or bite issues. If you have an overbite or a crossbite, you may be showing more gum than teeth. A dentist or orthodontist can use clear aligners or braces to align your smile correctly. While braces and clear aligners will take some time to fix your gummy smile, the results are long-lasting.


Veneers

You might be able to give your smile a whole new look by getting veneers. Veneers fit over your teeth, and because they are made of thin porcelain, they look and feel just like real teeth. Veneers help to minimize your gummy-looking smile instantly. In order to fit veneers, a dentist will make a mold of your teeth so that the veneers are custom-made just for your mouth. Veneers can last for up to 20 years, but they need to be replaced periodically.


Laser Gum Contouring

Dentists can use lasers to shrink your gum tissue, which makes your gums appear shorter. Lasers have revolutionized the dental industry. By using a laser, dentists can kill bacteria, trim your gums, and make your smile brilliant without much blood and relatively painlessly.

Usually, when dentists use a laser, you won't need any stitches, but if your gums have to be trimmed quite a bit, you may need some sutures. Once your gums have been trimmed, the results are long-lasting.

If you are ashamed of your gummy smile, you have plenty of options you can choose from. You should make an appointment with a dentist for a consultation to determine which option is best for you.